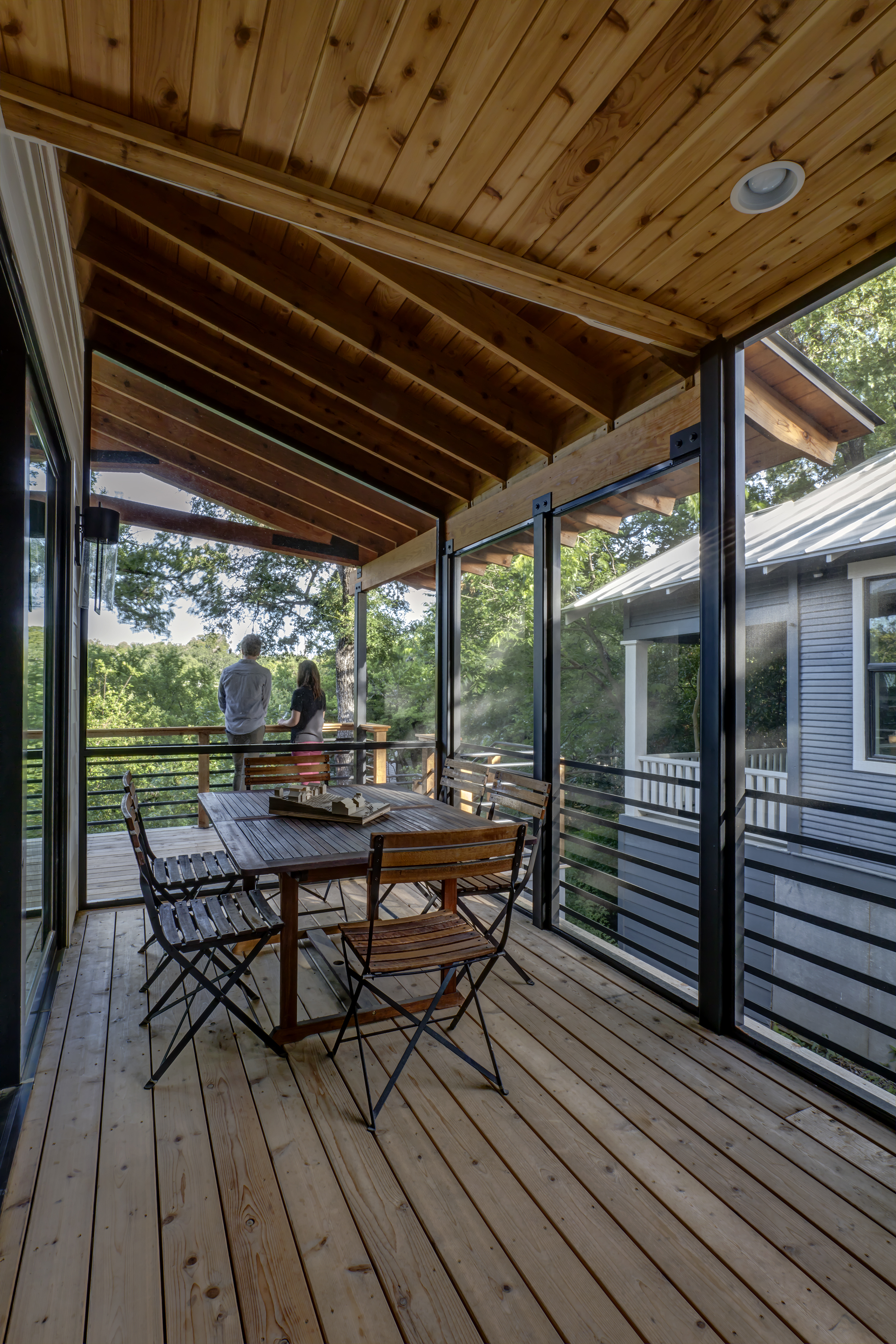 PATTERSON RESIDENCE
The clients purchased the original bungalow for the beauty of the lot as well as the neighborhood it is in. Being mere steps away from downtown, the area belongs to Austin's Clarksville Historic District which has maintained its small-village vibe in the midst of an urban setting. Historic homes occupy the neighborhood's hilly and landscaped streets.
For a family of six, a larger house, however, was needed to replace the bungalow. The proposed design adheres to the Old West Austin Neighborhood Association (OWANA) residential guidelines by promoting architectural diversity while maintaining the prevailing character of the neighborhood. Its massing is proportional to the bungalow that previously occupied the site as well as neighbors. The front porch and gable rooflines are contemporary interpretations of the characteristic bungalows of the neighborhood. The beloved craftsman style is also updated through a living space with an open concept, a modern metal staircase, and a push and pull on the side massing.
The constant slope of the site, which has an elevation change of 30 vertical feet from front to back, means that there is a greater than 10' difference in natural grade from front to back of the house no matter where it is placed on the lot. Due to the zoning regulations, a reasonable use of a basement was not technically allowed and a variance for a standard basement exemption was presented to the Board of Adjustments. Having the same amount of foundation visible when maintaining the original finished floor elevation, the design utilizes and activates the space beneath the finish floor level rather than simply covering the foundation cavity. Glass doors for a walkout basement to the front patio which serves as primary barbeque area give a more inviting street presence than an austere foundation retaining wall. The habitable basement contains a media room and a fitness room for the family, as well as extra storage space for their outdoor gears. The variance allows the lot to be developed to its full potential without negatively impacting the streetscape.
Location: Austin, Texas | Phase: Completion 2017 | Project Manager: Anna Katsios, Thomas Johnston | Design Team: Matt Fajkus, Anna Katsios, Thomas Johnston, David Birt | Interior Design: Joyce Marie Interiors | General Contractor: Capital Construction | A& F Drum provided by Ramy Antoun | Photography Logistic Support: Nitsche Events | Photography: Charles Davis Smith, FAIA, Federico Haro of Starbright Pictures, Bee Creek Photography
Selected Press
"Houses by Design," Fine HomeBuilding Magazine, August-September, 2018