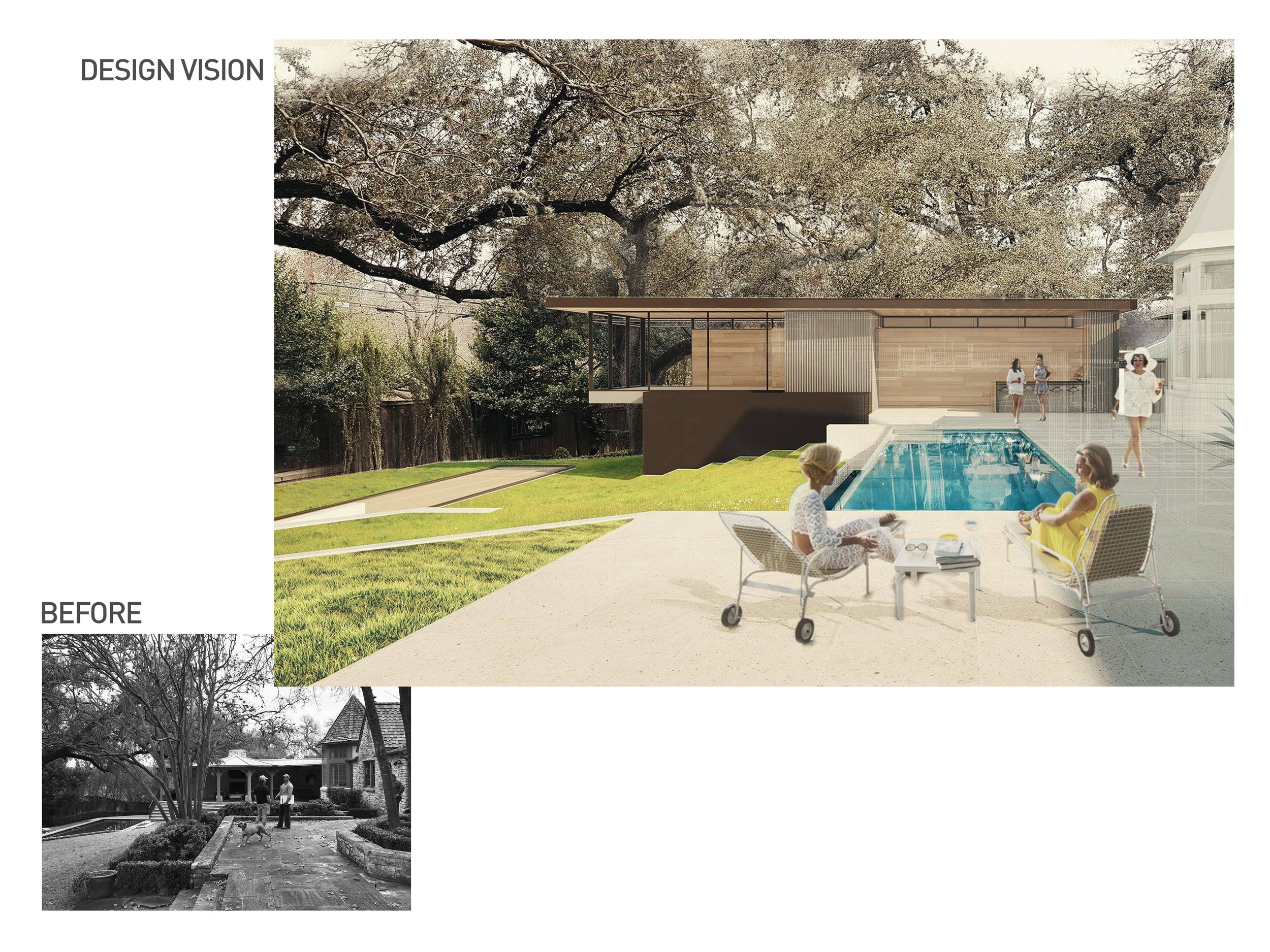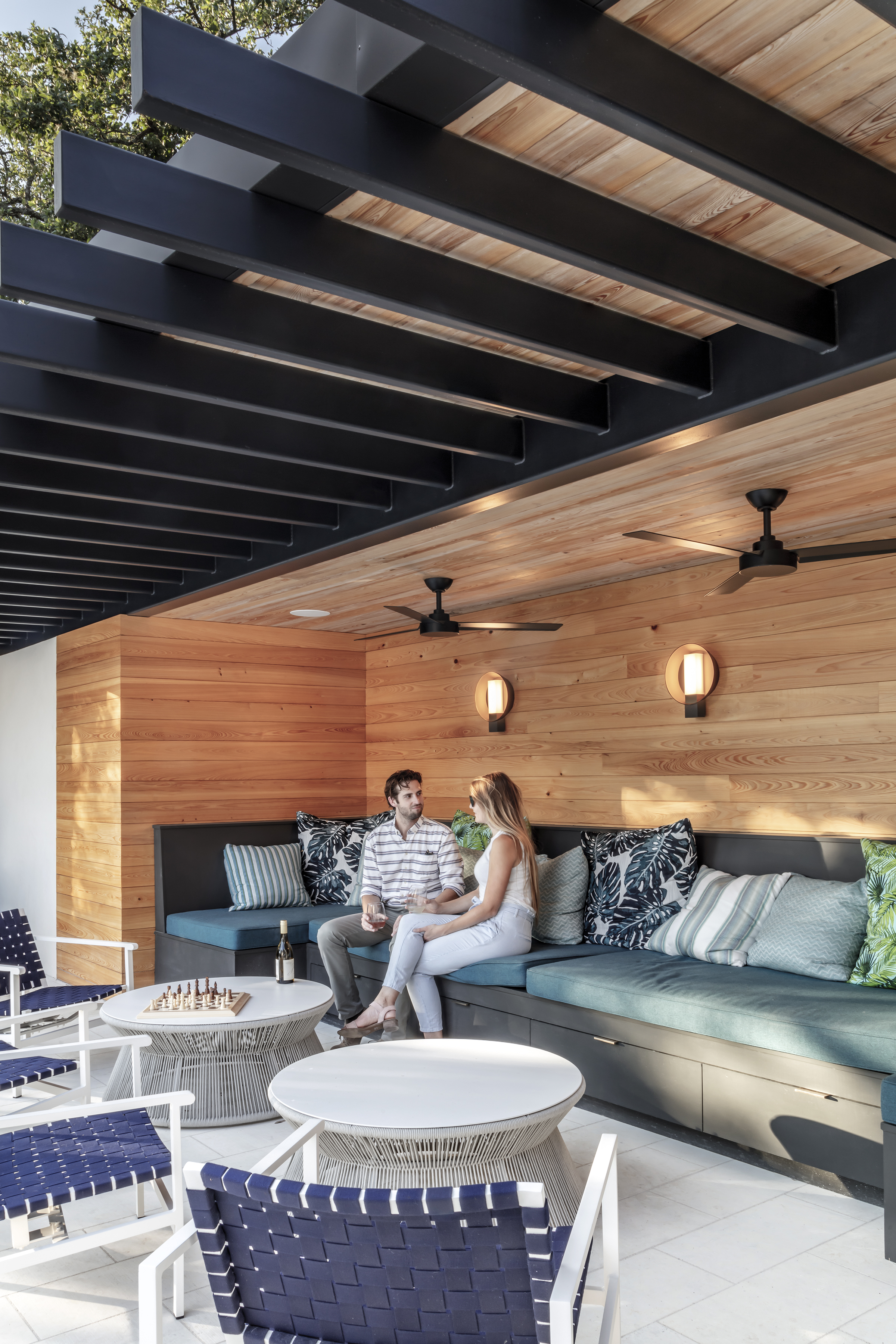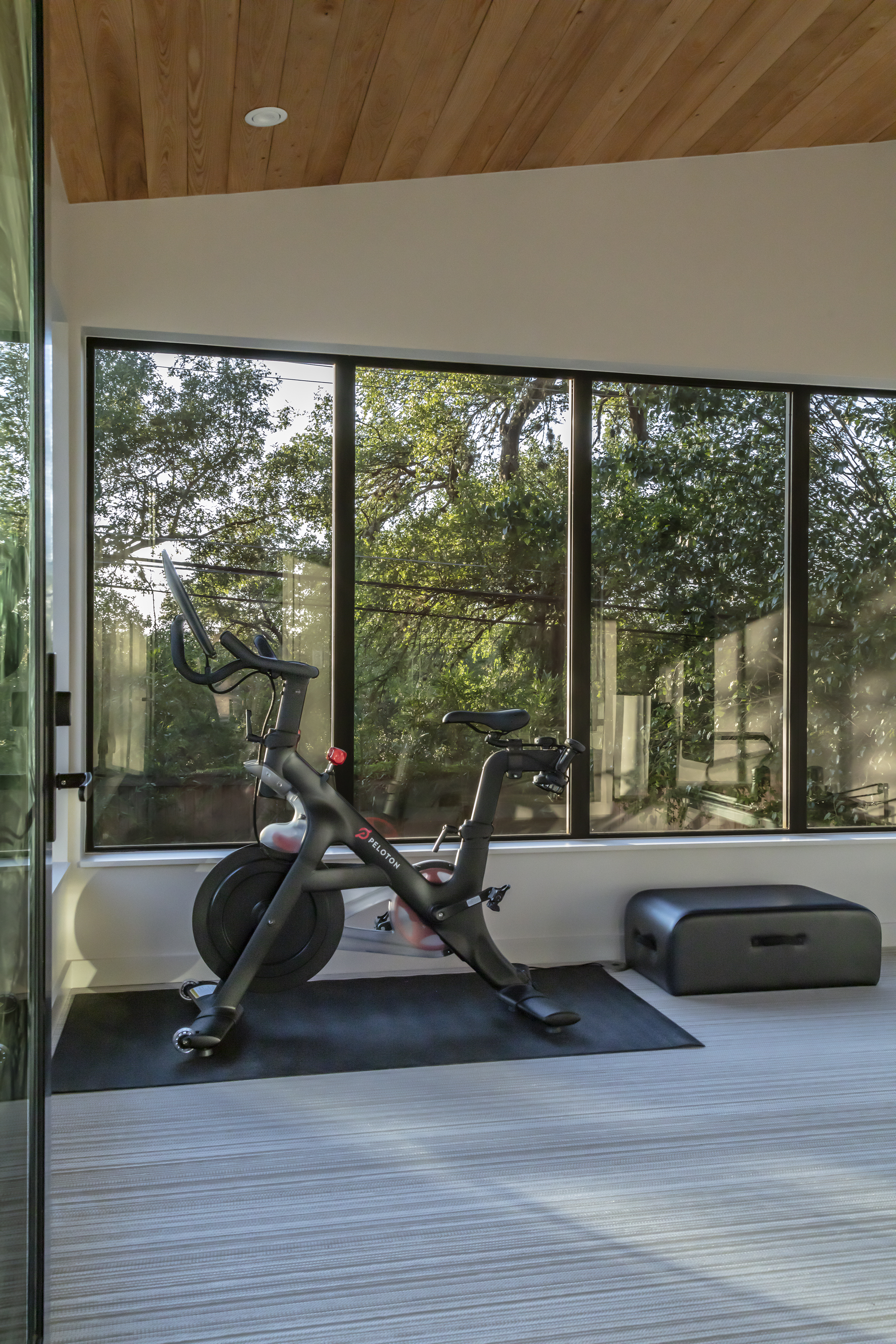 SLIM HOUSE
Sitting on a one-acre lot in Austin's Tarry Trail neighborhood, the back yard of this existing 1933-vintage historical house was underutilized. The owners felt that the main drawbacks of the existing back yard were a general disconnection between each outdoor area and a general lack of relationship to the house proper. The primary goal of the redesign, therefore, was to land a scheme that would promote the use of the outdoor zones, using the pool as a centerpiece.
The design overhaul is first based on the design move of framing the pool with a backdrop of new structure perpendicular to the main house, which allows for outdoor activities and indoor exercise. A corollary focus was to establish different levels and areas within the pool that create a more lively function and appearance, including benches, shallow "beach zones," or sunbathing areas. Planter beds and low walls give loose constraints to organize the overall outdoor living area, while allowing the space to spill out into the yard. Landscaped terraces act as a passage to the lower part of the yard where children can play on the grass as the parents can lounge by the outdoor fireplace while watching them.
In addition to becoming a connector between the house and the yard, the elongated pool also separates the common areas from the private lives of the family. With one end by the formal living room, and the other end by the family room, the pool has two shallower "beach zones," allowing for a "splash buffer" for kids and adults while encouraging dynamic use at both ends. The common side acts as a reflecting pool to provide a composed view from the front entry and extends to a large outdoor dining area under a majestic oak tree. The private side optimizes sun exposure with flexibility in shading through means of a new standalone structure. Under the addition's overhang, a L-shaped built-in seating space offers sunlight/shadow balance. An outdoor grill and bar area complete the family's outdoor lifestyle while an interior workout room with glazed façade faces the pool and the children's playground.
The spa is intentionally distinguished from the pool to allow separation, and yet with easy access to the bar area, fireplace, pool deck, benches and loungers.
Location: Austin, Texas | Phase: Completion 2019 | Project Manager: Michael Deere | Design Team: Matt Fajkus, Michael Deere, Sarah Johnson | General Contractor: A.R. Lucas Construction | Landscape Architect: Aleman Design Build | Photography: Charles Davis Smith, FAIA