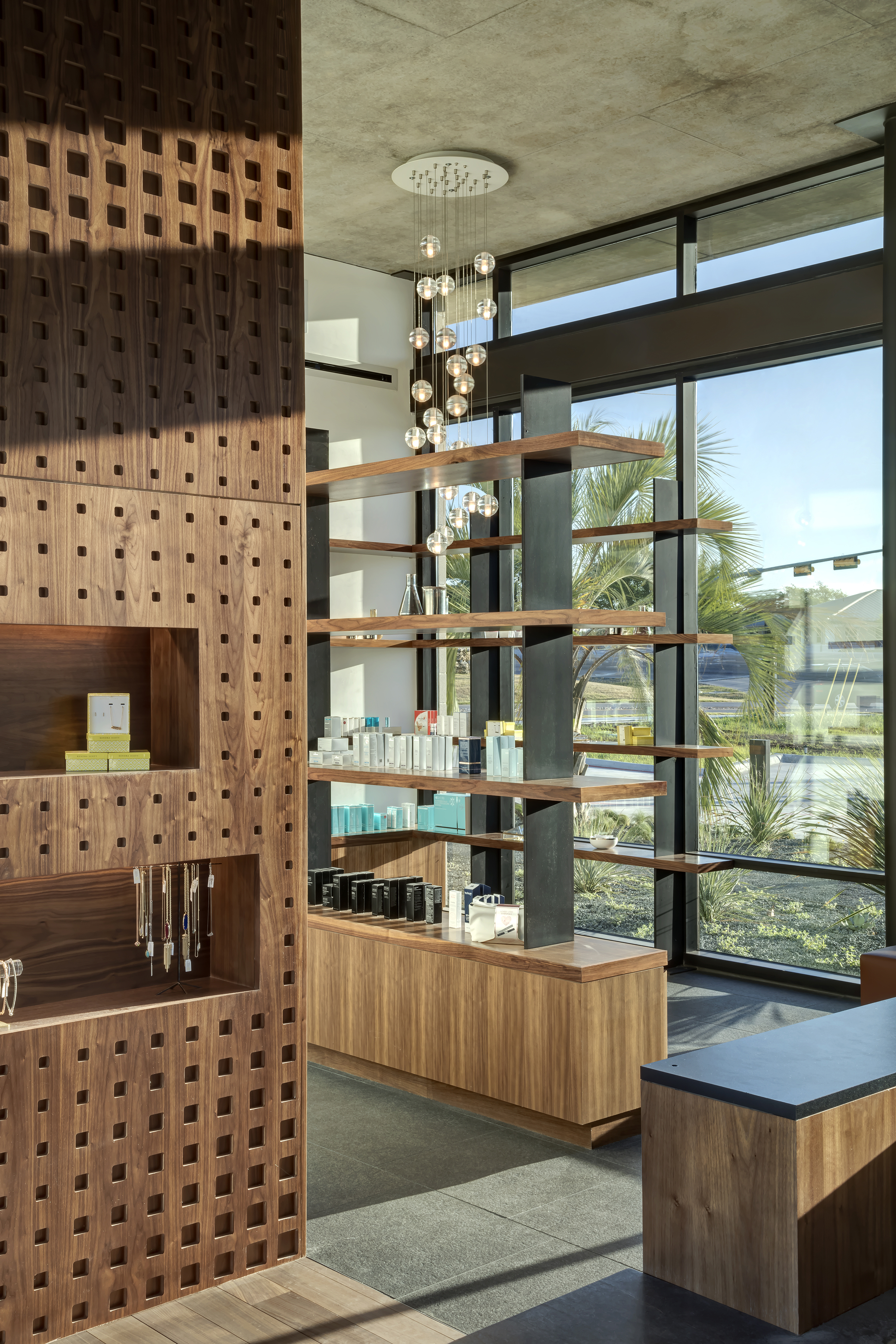 WESTLAKE DERMATOLOGY
Situated to overlook gentle hills to the southwest, the new medical building is intentionally subtle, minimizing the visual presence of the new construction. The nuanced concrete and glass shell merges with the designed landscape architecture, enveloping the comfortable, bright, and open interior in calm and quiet as one transitions from the road, through a garden zone, and into the space overlooking the Texas Hill Country.
Patient care and comfort are priorities – both influencing the design to embody feeling of security, ease, and solidity. Upon entering or leaving the building, a physical transition and subtle mental cleanse occurs as patients, staff and physicians move through the interstitial space formed by the garden. Once inside, natural daylight from a skylight is filtered through the layering of a perforated and parametrically-designed wood screen. Warm and neutral materials, including Texas walnut, polished concrete, and natural stone and ample floor to ceiling glass alleviate Westlake Dermatology's Marble Falls location from the sterile and harsh interior environments typically associated with medical offices.
While uniform in size and shape at a glance, the concrete shell adapts to functional requirements such as the tapered, deep overhang that provides shade in conjunction with the fritted glass. The interior navigation is straightforward, intuitive, and provides a workflow that both allows patients and customers to wander without overlapping with the more private areas of the facility.
From a distance, the Westlake Dermatology building in Marble Falls, Texas, is a pavilion in the landscape, standing as a structure to behold in and of itself, but from in and round the building, it acts as deferential backdrop to function and as a frame for views beyond. Calibrated detail along with careful material selection and placement result in a soothing and refreshing medical environment that is considerate of spatial and sensory experiences.
Location: Marble Falls, Texas | Phase: Completion 2017 | Project Manager: Jayson Kabala, Ian M. Ellis | Design Team: Matt Fajkus, Jayson Kabala, Ian M Ellis, David Birt | General Contractor: Zapalac Reed | Furniture Selection: Allison Burke Interior Design | Structural Engineer: MJ Structures | MEP Engineer: DBR Engineering Consultants | Civil Engineer: LJA Engineering | Landscape Architect: Eden Garden Design | AV: Smart Systems – Austin, TX | Photography Logistics: Nitsche Events | Photography: Charles Davis Smith, FAIA
Awards
AIA National Healthcare Design Award, 2019
International Design Competition Archimarathon, 2019
Urban Land institute Impact Award Finalist, 2018
Selected Press
"Westlake Dermatology," Healthcare Snapshot, September, 2019

"AIA and AAH Announce Healthcare Design Award Winners, " Architect Magazine, July, 2019

"Westlake Dermatology Concrete and Glass Pavilion," Architect Magazine, July, 2019

"10 Architecture Firms That Design Austin Office Space," Commercial Cafe, February, 2019
"Westlake Dermatology Marble Falls," Arch Daily, July, 2018

"An Austin doctor goes head over heels for high design," American-Statesman, May, 2018

"Westlake Dermatology at Marble Falls," e-architect, September, 2017

"Matt Fajkus solidifies himself as a local icon," Austin Business Journal (print), September, 2017

"Matt Fajkus is becoming an Austin design icon; Dive into his latest work," Austin Business Journal (online), August, 2017

"Concrete dermatology office by Matt Fajkus overlooks Texas Hill Country," Dezeen, August, 2017

"A Concrete and Glass Haven: Matt Fajkus Architecture Delivers a Substantial Dose of Style," Eclectic Vignette, August, 2017

"Westlake Dermatology plans rapid expansion; emphasis on design more than skin deep," Austin Business Journal, March, 2016