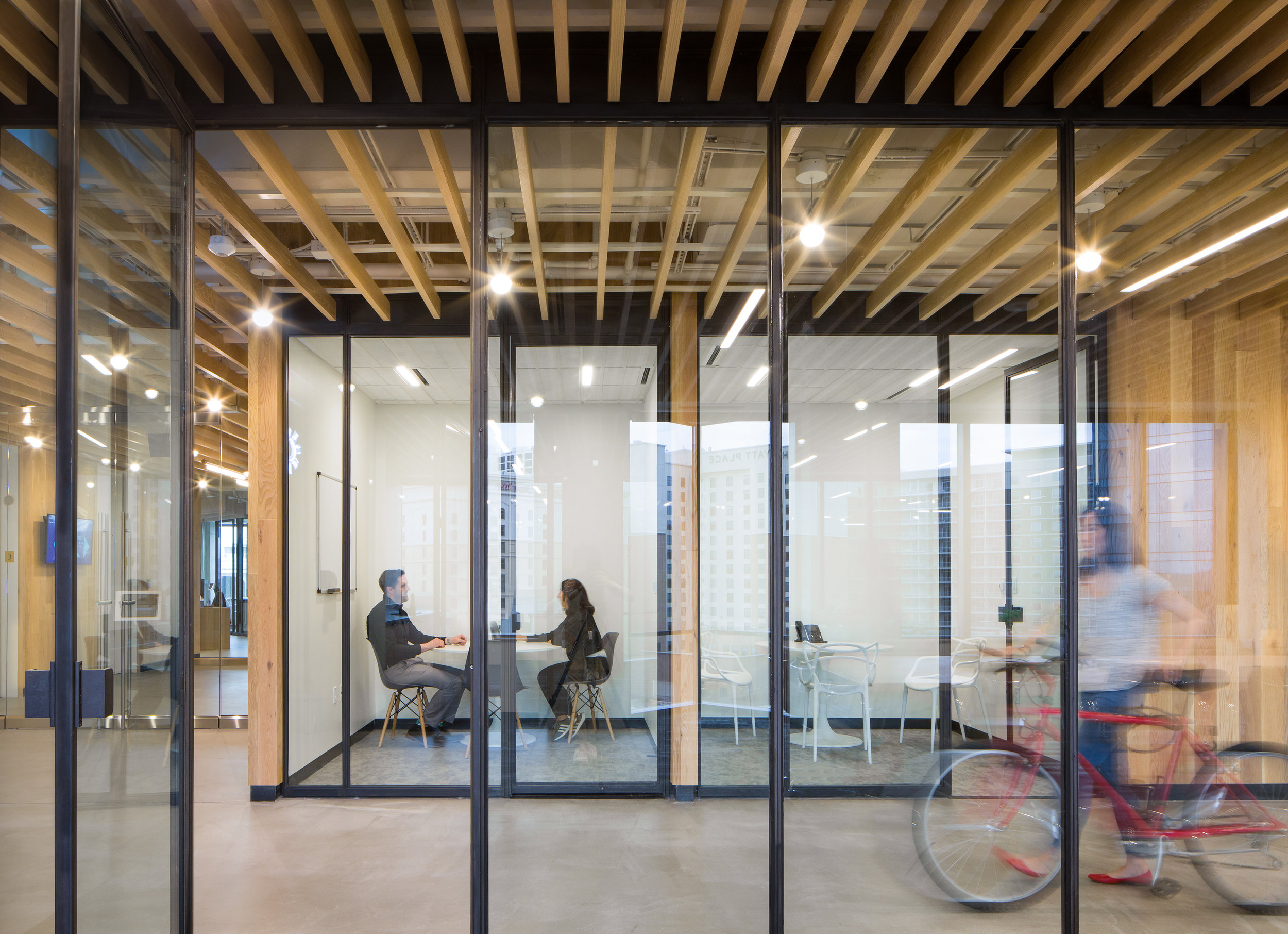 RIGUP OFFICE
The main design request by RigUp, a dynamic Austin startup business, was to design a simple, modern, and warm work space for their growing team of more than 100 employees. The young, tech-savvy company was looking to minimize on distractions while also offering a cozy and residential feel to a commercial work environment. The objectives were achieved through the layout, material selection, integrated biophilic design, and a collaborative approach throughout the design process.
The new headquarters space fills an entire floor of a downtown Austin skyscraper. From the elevator lobby, a large and linear core clad in white oak houses the main functions of the space including telephone booths, kitchenettes, restrooms, and seats for conversations and small gatherings. Moving out from the core, the space opens to an workstation and lounge areas, composed of steel-and-glass partitions and custom oak work stations on exposed concrete floors. The main workstations complement the wood core with custom made furniture under a layer of sound-absorbing LED boards. The desks are angled to respond to the existing building perimeter and capitalize on the view towards Lady Bird Lake. Lounge areas and small meeting rooms break up the large open floor area while creating a buffer between work and relaxation. Unlike the meeting rooms which have simple gray carpeting to blend with the exposed concrete flooring, the use of bold patterned rugs offers the lounge areas a bit of relief for an area of repose. Moreover, each lounge has a different character, designed with individuality through furniture, light fixtures, and views.
On the other side of the central wood core, large board rooms encased in custom steel and glass frames highlight northeast views towards downtown. Operable doors between the board rooms create dynamic spaces for meeting. Carpeting with a deep-hued color differentiates these rooms from the rest of the space.
End-capping the 24,000 SF of tenant space are the main kitchen and all hands meeting areas, as well as a quiet gathering space at the opposite end for highly-focused working hours. The kitchen and all hands meeting areas are intended to have a residential feel with high end finishes including hexagon cut marble tile, custom painted cabinetry to coordinate with branding colors, and engineered Caesarstone in a marble like patterning for heavy duty use.
The overall outcome of this project is a work environment that is functional yet inviting - eliminating the notion of a sterile office setting. The design is centered around creating a calm and relaxing environment for the tech savvy while maintaining a level of creative collaboration for team spaces. Each space supports its own function and serves as an intermediate buffer to another space so that one loud and creative environment is not directly adjacent to a quiet working space. The material palette also reinforces this notion by inserting a selection of muted white oak and warm felt tones throughout. Biophilia is consistently considered, as the entire space is laced with a series of integral plant walls and low planters are further utilized to bring down the scale and enable an element of natural connection in a vibrant work space.
Location: Austin, Texas | Phase: Completion 2019 | Project Manager: Ingrid Gonzalez Featherston | Design Team: Ingrid Gonzalez Featherston, Sarah Johnson, Matt Fajkus | General Contractor: NOVO Construction | Structural Engineering: MJ Structures | MEP Engineering: MEJ Associates | Millwork: Dovetail | Custom Furniture: KKDW | Lighting: Spectrum Lighting Austin | Acoustic Baffles with LED: Focal Point Lights | Photography: Hua Liu and Rachel Deng